Assemble css code quickly and easily with the CSS Code Assembler.
In minutes you will have the css style you have been looking for in just a few simple point and click steps.
What is the CSS Code Assembler?
The assembler is a tool to help build and create cascading style sheets. The assembler was not intended to be used to learn css but after creating a few styles you will find yourself understanding and learning how css works.
CSS Code Assembler runs in your browser and no install is necessary. Currently it has been tested and works in IE5+, NS4*, NS6, Mozilla1 and Opera6*. (* with some minor limitations) CSS Code Assembler is available for use online. or Download here (248K self extracting Zip file) the offline version.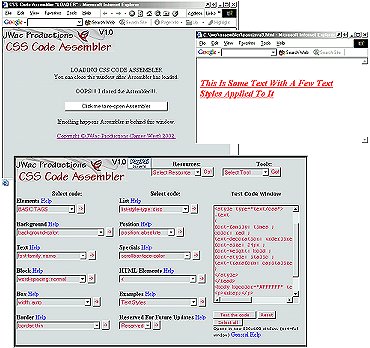 The assembler uses a add code method. What this means is you add the necessary pieces together to create your style sheet. Screenshot
Are you using a High screen resolution or larger font and want The assembler to fit your screen better? Click here for instructions. (For the offline version only)